Barbabravo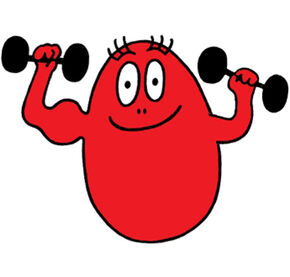 Appearance and Nature
Edit
Barbabravo is bright red in color. His shape is similar to that of his father Barbapapa but he is much smaller in size. Barbabravo is the most athletic memebr of the Barbapapa family. He loves all kinds of sports and physical activities. He also enjoys exercising and can often be seen lifting dumbbells in his spare time. Because of his competitive nature, Barbabravo likes to take lead and face any challenge head on.
Apart from his sporty nature, Barbabravo is also an amateur detective. He loves to investigate any kind of mystery. With his Sherlock Holmes hat on his head and a magnifying glass in his hand, Barbabravo is ready to tackle any secret.
Barbabravo is one of the seven children of Barbapapa and Barbamama. He has three brothers and three sisters.
Name in other languages
Edit
French: "Barbidur"
Shapes Changed
Edit
Ad blocker interference detected!
Wikia is a free-to-use site that makes money from advertising. We have a modified experience for viewers using ad blockers

Wikia is not accessible if you've made further modifications. Remove the custom ad blocker rule(s) and the page will load as expected.